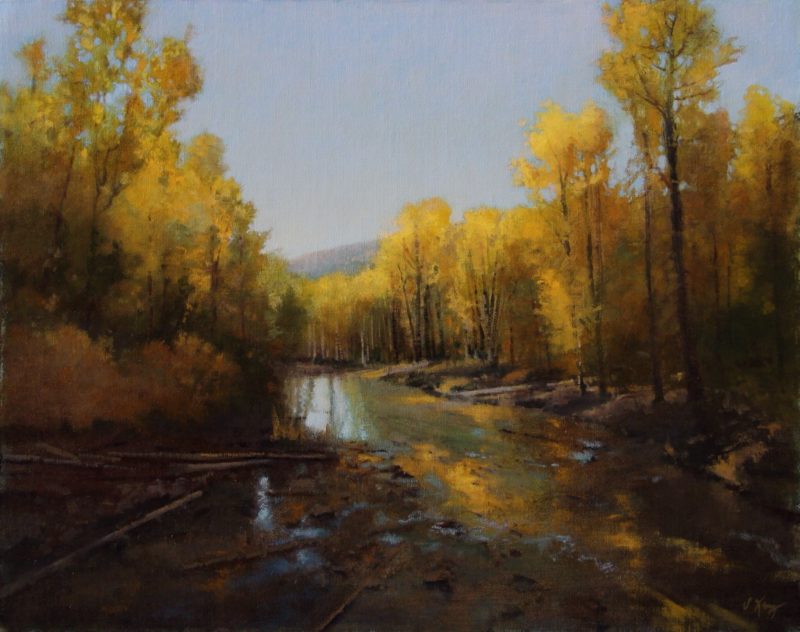 What motivates you to paint?
I have been creating as long as I can remember.  I think drawing is the common denominator among all visual artists and I was certainly no different.  I kept dozens of notebooks with drawings of fashion, figures and my dogs and took art in school every year that I could.  I used my drawing skills to design patterns for clothing for my family and did every craft known to man!  At age 29, I took my first watercolor class and fell head over heels!  I painted obsessively, went back to school at 35 and never looked back.  I have been painting and teaching full time professionally for almost 20 years now and I can't imagine doing anything else!
When I was growing up, my father worked for the U.S. Forest Service and he had all the maps other people didn't have.  All of our vacations were centered around fishing and camping.  Even when we lived back on the East coast, we came back to Utah for our vacations and went camping with our family.  The love of the land was instilled in me from childhood!  When I went back to school for art, I primarily studied figure drawing and painting. After school, I found myself drawn to landscape painting and I have never been able to get it out of my system yet!  I am in love with the visual imagery of winding rivers, pine trees, grassy meadows and places I want to be and memories that made me who I am.  This is where I feel most grounded and in my spiritual place.
How do you balance family life and art?
I have always aspired to have a balanced life, but the art life is an entirely different type of balanced!  Everything I do, everything I see, everything I enjoy involves art and my family has been amazingly patient with me.  This is not an occupation for the weak or weary!  I can never turn it off, my mind is constantly looking or analyzing what to paint or work on next.  I am fascinated with painting in series and often the concept comes long before the imagery.  Living in Northern Utah, the imagery comes easy.  Our landscape and that within four hours of us in every direction happens to be the most beautiful country I could hope for.
Who influences your work?
My other obsession in this art career is art history!  I have studied turn of the century American landscape painters since turning to the landscape.  I love Monet, Corot and other foreign painters, but we as Americans have a different way of making our own rules, for jumping in feet first and responding spontaneously.  Whistler, Twachtman, Tryon and Inness have influenced me and my work immeasurably.  I try and study artwork that has stood the test of time, proven to ride the tides of chic, en vogue and trendy.  When you see something that resonates within you that someone 100 years ago did, you know that if they could use their voice, so can you!  It's then just a matter of time, commitment and hard work to get there!  And there are SO many contemporaries one can go take workshops from now.  Never have teachers been so accessible with so many learning opportunities.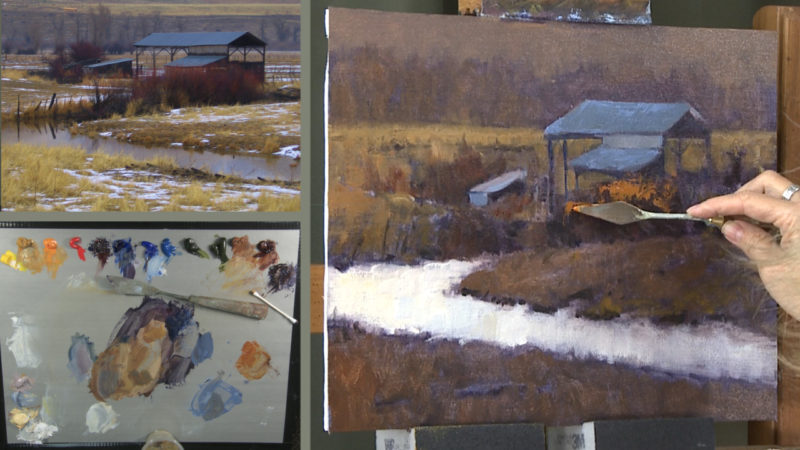 What do you want to instill in your students?
I love teaching all that I have found in these last 20 plus years!  I love watching the joy of creation in my students reflecting that same love that I found for myself.  It's exciting, inspiring and keeps me searching for more learning in my own work.  I am always in awe of watching someone push their limits and move to the next level in their work and am happy to be a part of it.  Every authentic voice has an audience to speak to.  If you paint with your heart, your people will find you.  Keep searching, putting in the miles of canvas, digging deeper into self exploration and it will all show itself in your work – and you will just keep getting better.  It's a never ending process, there is no end to yearning to get better!  The unsolvable mystery!  And the greatest journey or those lucky enough to search for it!
See more of Shanna's work at shannakunz.com.
Click here to watch a preview of her new instructional video Composing in Keys
Click here to order Shanna's instructional DVD Composing in Keys – High and Low